Introducing: Alpha3D Extension for NVIDIA Omniverse
08 August 2023
·
Mariliis Retter
We are collaborating with NVIDIA to extend the capabilities of Alpha3D to the NVIDIA Omniverse platform. The Alpha3D extension for Omniverse provides a new level of convenience and efficiency for 3D model generation, speeding up the workflows of designers, artists, and developers.
What's Alpha3D?
Alpha3D is a generative AI-powered platform that transforms 2D images or text prompts into 3D models in a matter of minutes. It democratizes the process of creating 3D content for augmented reality, virtual reality, and immersive virtual experiences, making it faster, cheaper, and easier than ever before.
What's NVIDIA Omniverse?
NVIDIA Omniverse is a platform for connecting and developing Universal Scene Description (OpenUSD)-based tools and applications. It accelerates the creation of virtual worlds and advanced 3D workflows for industrial digitalization. Built on OpenUSD, NVIDIA RTX, and AI technologies, Omniverse is a modular, fully composable software platform that scales from workstation to cloud, enabling developers to build advanced, scalable solutions with minimal coding.
How does the Alpha3D extension for NVIDIA Omniverse work?
The Alpha3D extension for Omniverse streamlines the 3D model generation process by integrating Alpha3D directly into the Omniverse platform. With this extension, designers, artists, and developers can import their 3D assets from Alpha3D directly into their USD-based workflows and applications, taking advantage of a host of unique benefits, including:
Democratised 3D creation process. Regardless of their level of expertise in 3D modeling, designers, artists, and developers can transform 2D images and/or text into 3D digital assets via the Alpha3D platform in minutes and immediately use them in their workflows.
Streamlined workflows that allow creators to sync their Alpha3D account with Omniverse and import their AI-generated models directly into Omniverse. This seamless integration makes it fast and efficient to navigate between the two platforms, saving time and eliminating the need to download and re-upload 3D files.
How to get started
It's easy to start taking advantage of Alpha3D in Omniverse. You'll need both an Alpha3D account and Omniverse, then follow the steps below.
Generate 3D models from 2D images in Alpha3D
Create an account on Alpha3D (if you don't already have an existing account).

Generate 3D models with Alpha3D: Upload 2D images of objects or use text prompts to generate 3D models in minutes.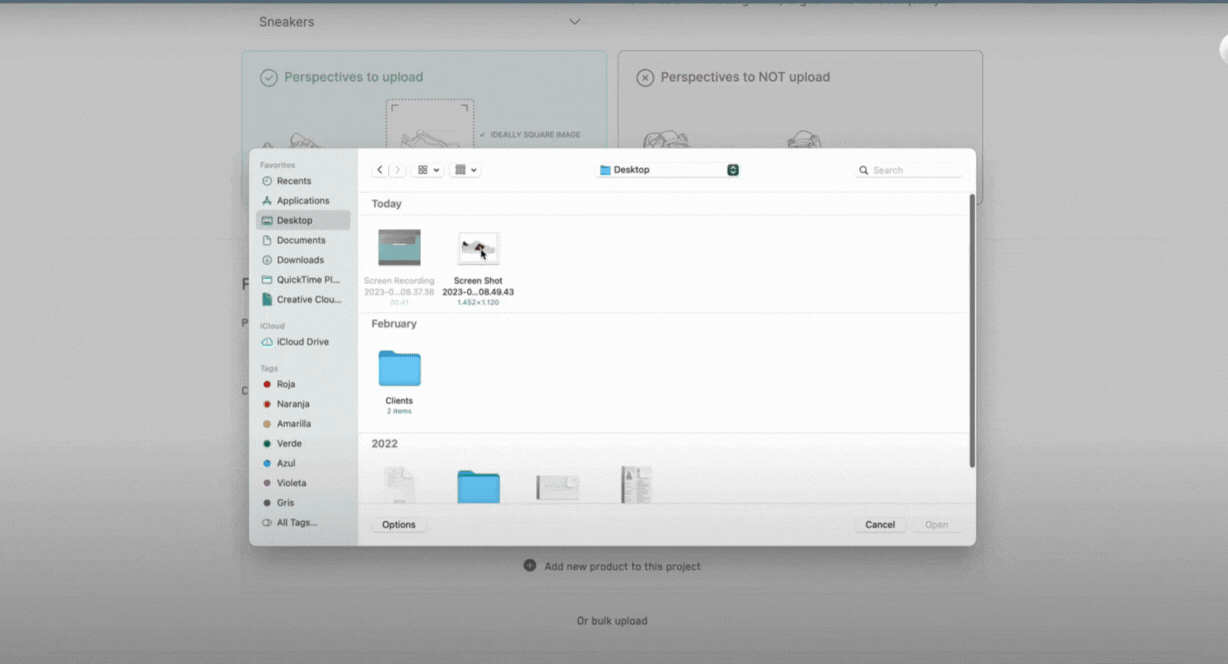 Open Alpha3D assets in Omniverse
Get started with NVIDIA Omniverse by downloading the standard license free, or learn how Omniverse Enterprise can connect your team.
Sign into your Omniverse account.

Find Alpha3D in the extensions tab and enable the extension. This will prompt you to log in to your account.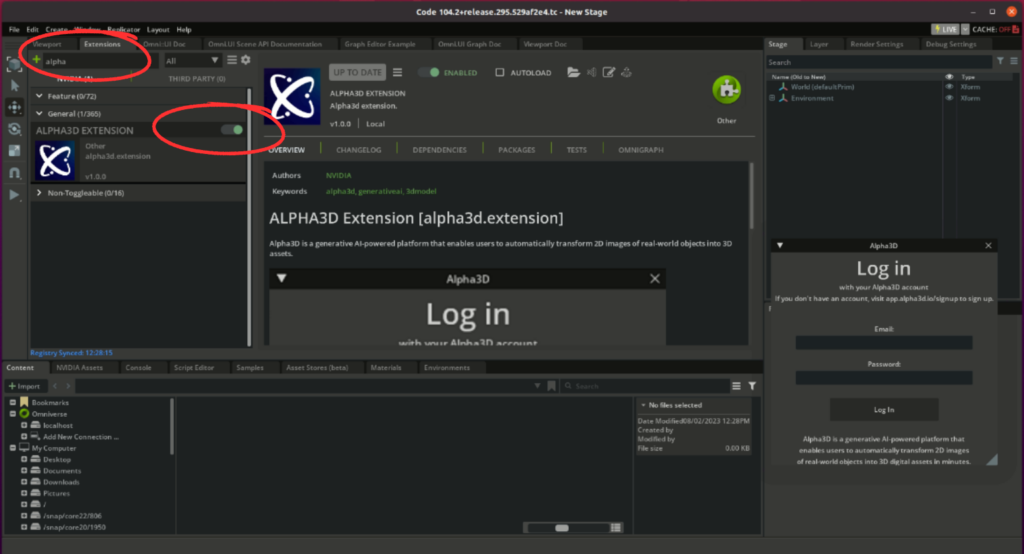 The 3D assets from your Alpha3D account will be automatically imported.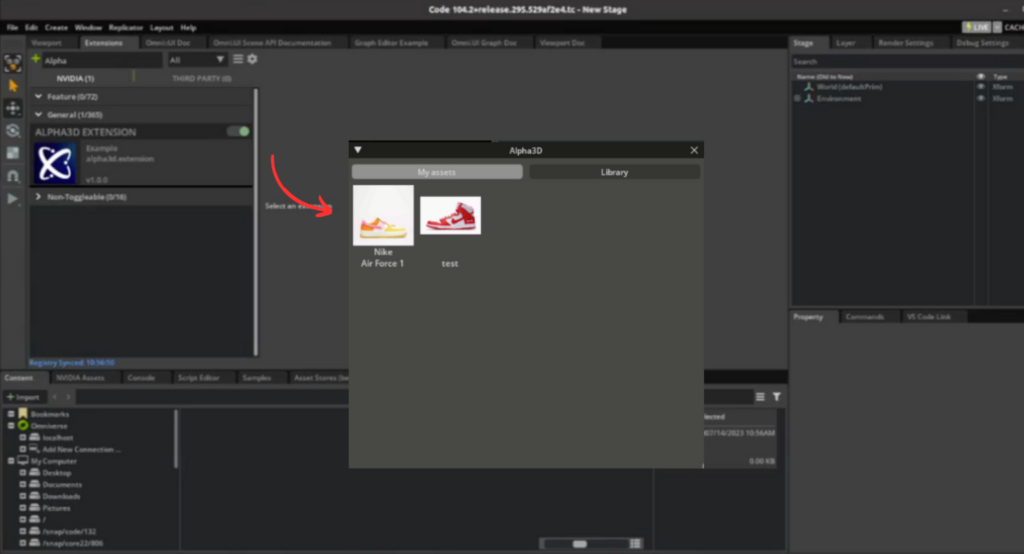 If you don't have any 3D assets generated on Alpha3D yet, you can pick a stock 3D model from the Alpha3D Gallery in the Alpha3D Omniverse extension.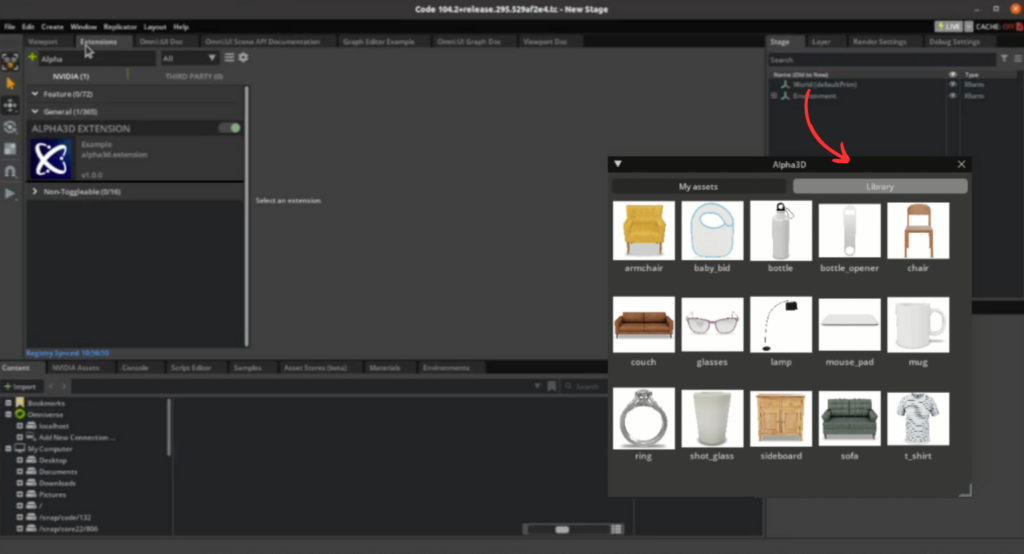 Drag and drop the 3D asset you'd like to continue with.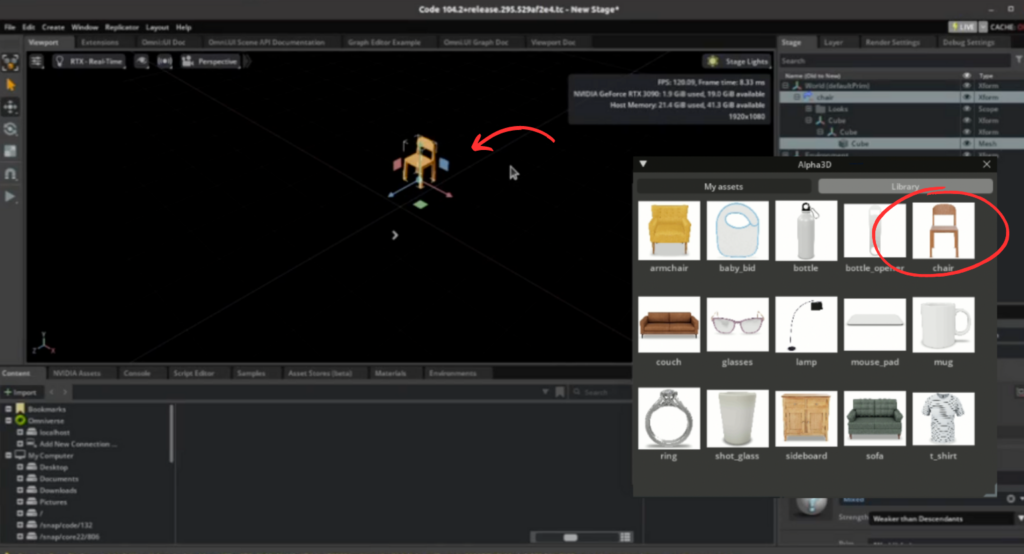 Manage and deploy your 3D assets in Omniverse. After your 3D models have been selected, they will be available for management and deployment in the Omniverse platform.
Get started building your own immersive digital experiences with Alpha3D in Omniverse. Check out these developer resources to learn how you can integrate the Alpha 3D extension into your own Omniverse workflows and applications.